Description
Empava White Advanced Smart Electric Bidet Elongated Heated Toilet Seat with Warm Air Dryer and Temperature Controlled Wash Functions
Only for Elongated Toilet
Empava bring innovation and durability to create the high quality, visually striking electric bidet seats, convenient and hygienic solution to your cleaning problems.
No need for toilet paper, no need for toilet trash can, after washing, its unique sterilization and deodorization function, to create the cleanest and most hygienic environment for your bathroom.
SPECIFICATIONS
Outer Dimension: 20.7 in. L X 19.1 in. W X 7.3 in. H,
Pre-installed US standard 120V GFCI Power Cord.
The USA & Canada UL certified smart electric bidet seats are designed and engineered in the USA by Empava Appliances with 2 years warranty.
Empava US-based product support team is happy to assist with any sales or product-oriented queries.
MODERN DESIGN
The electric bidet seats by Empava are made out of ABS plastic and fit most elongated toilets. The slim design and defined lines meet ergonomic, naturally fit the human body, looks more beautiful, and use comfortably. The motor-driven nozzle enables you to move forward & backward 12mm and choose 5 different nozzle positions to suit your convenience.

VARIOUS WASH MODES
Multi-wash functions with self-cleaning nozzle & oscillation: catharsis (deep clean), rear wash, ladies? wash. The catharsis (deep clean) could get oscillating water spray for wider area cleaning. The ladies? wash is a gentle and dedicated water stream and will be produced to clean her front safely and comfortably. Especially for women during menstruation and pregnancy.
ADJUSTABLE TEMPERATURE
Water pressure can be adjusted with 5 different levels. Water and seat temperature can be adjusted with 4 different levels. The dryer temperature level is adjustable up to 5 levels to your own comfort. The powerful memory function allows you to keep the seat & water temperatures to your favorite level.
SMART TOUCH SIDE PANEL
Come with IP67 waterproof rate side panel. It's touch-sensitive that reacts even when pressed lightly. The massage function takes comfort to a whole new level. The auto deodorization and splash-proof design create the cleanest and most hygienic environment for your bathroom.
SAFE & ECO-FRIENDLY
With safety on/off body sensor which activates bidet only when seated. Slow closing lid and seat helps prevent sudden loud noise and accidental injuries. No need for paper, no need for toilet trash, friendly to the environment. Plus, less paper means fewer clogged toilets!
FULL ACCESSORIES
The Empava electric bidet seats come with 1/2" plastic t-valve, 50cm/19.7in PVC water inlet hose, 2pcs rubber washers (spare), 2pcs metal washers, 2pcs rubber bushings, 2pcs mounting Bolts, 2pcs regulating plates, mounting bracket. The sturdy and durable bracket makes the bearing capacity is up to 330 LBS.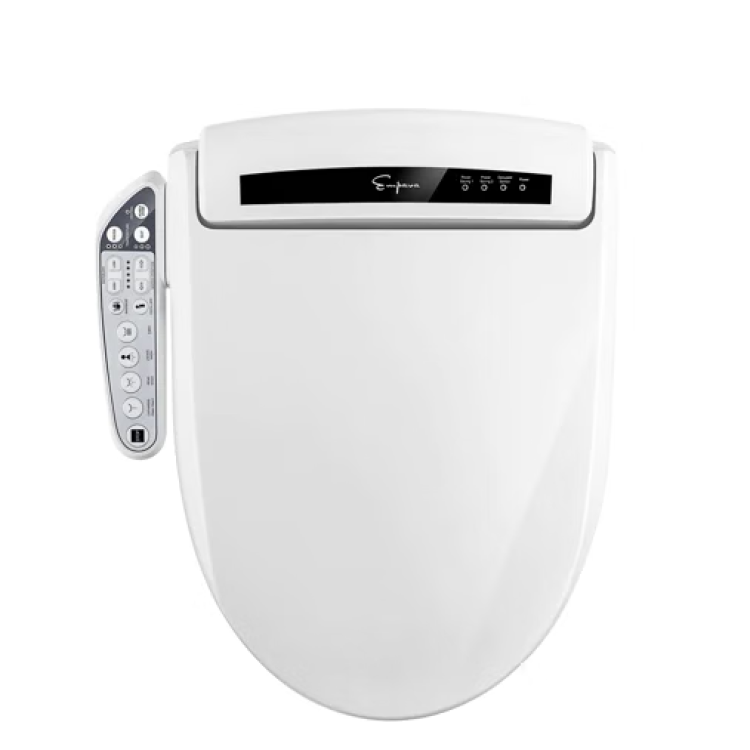 Empava Additional Information: 
Before Delivery:
Orders processes in 1-2 business days. Once an order has been shipped, brand is unable to change or modify it for any reason.
For orders that use the LTL shipping method, if the consignee requests to change the destination, the shipment will return to the shipper and brand will charge 20% of the refund as a restocking fee.
All LTL orders need to be accepted for delivery within 5 days of the shipping carrier contacting you to set up a delivery date. For any order not accepted within 5 days, refused, or returned to the sender, brand will charge 20% of the refund as a restocking fee.
After Delivery:
Brand provides a 2 year limited warranty for manufacturing defects and replacement parts. For full details, refer to this link: https://bit.ly/3K1gHXF
Within 30 days of delivery, customers may request a refund.
For defective, damaged, or wrong products, customers should refuse delivery or submit a request with pictures within 48 hours of receipt.
For refunds for other reasons, brand will charge 20% of the refund as a restocking fee. Product must be in resalable condition to receive a refund, meaning it must be free from scratches, must not have been installed, must be in the original manufacturer's box and packaging and be free of writing, and must not be missing pieces.
To request a refund, email pictures or video evidence to support@empava.comand CC info@wholesalebidder.com for faster responses.
Please note that we may use another shipping method according to the actual situation.
Currently orders to Hawaii, Alaska, Puerto Rico, and other US islands can't be delivered.