Description

"Everyone deserves great pizza". A wood-fired pizza oven uses high temperatures to impart delicious flavors and unique cooked textures to your food. There's nothing greater than a scrumptious meal prepared in a backyard pizza oven. Sip a glass of wine and laugh with friends as you cook dinner in a traditional wood-fired oven that is as much a work of art as the cuisine you are cooking.
Constructed with 18-gauge stainless steel for exceptional resistance to corrosion and rust. it can reach a higher temperature than conventional ovens, refractory tiles will help to store heat which cooks the food more evenly and quickly.
The burning of firewood infuses food with smoked aroma that enhances the original flavor of it.
Come with 4-wheels (2 swivel and 2 fixed) so you can easily move and lock the unit in place. During the past years,
Empava wood-fired oven has become more than a cooking appliance, it's also an outstanding piece of furniture to liven up your garden or backyard and to turn it into a terrific cookout venue.
Empava Wood Fired Pizza Oven PG05
The unique part of this pizza oven is that it has a side table for storage. This pizza oven can cook up to 24" size pizza just as our PG01, PG03, PG06 do, but it is the most affordable one amont these 4 models.
Fast Heating

With 0.6" thickness fire bricks inside the oven, Empava portable outdoor pizza oven uses very little wood chips or charcoal fuel and can heat it to a predetermined temperature in 5 minutes. You won't need to worry about too low heat during cooking which causes a doughy pizza. With built-in temperature gauge, it is very easy for you to acheive accurate cooking and gain the best flavor of each ingredient.

Multi-Functional & Beginner-Friendly
You can use our oven for smoking, grilling, barbecuing, and stone-baked pizza in your garden backyard, at the beach, or in any outdoor space. This pizza oven lets every pizza lover with no baking techniques be able to make delicious pizza as they would like. And it is easy to take apart for cleaning, storage, and moving.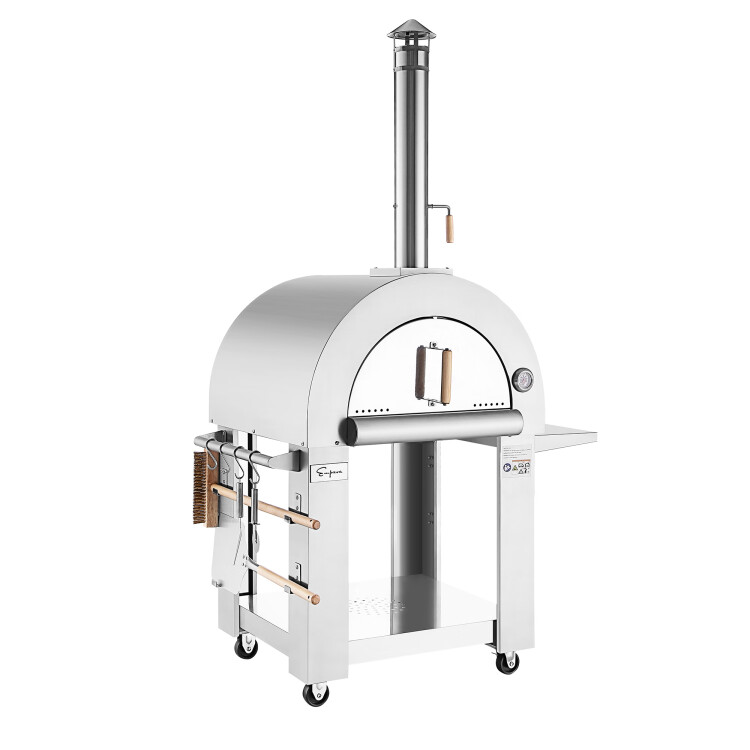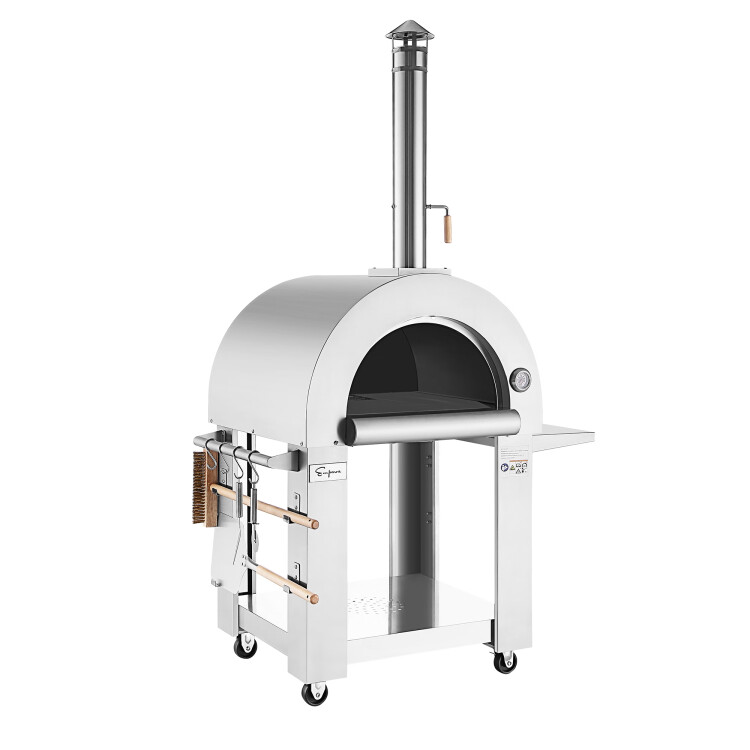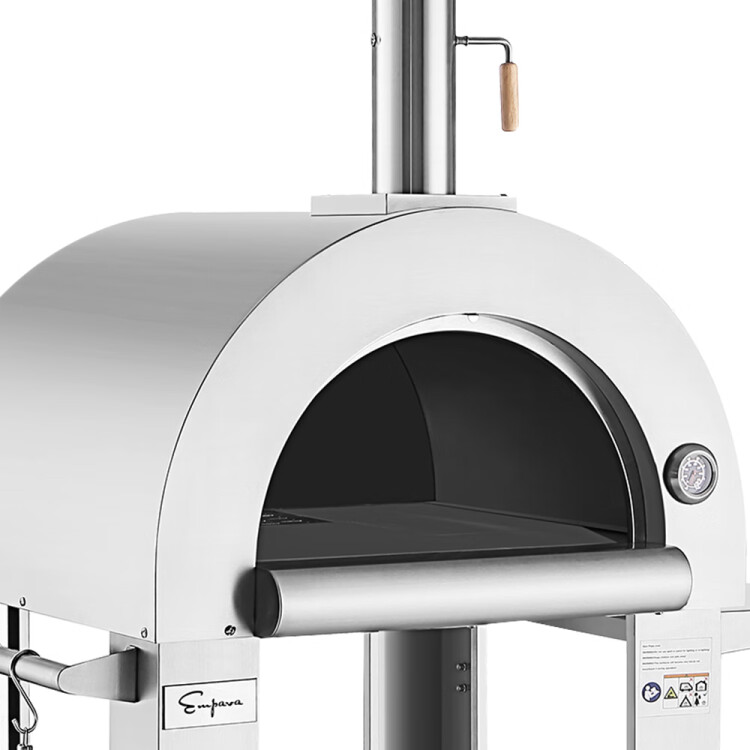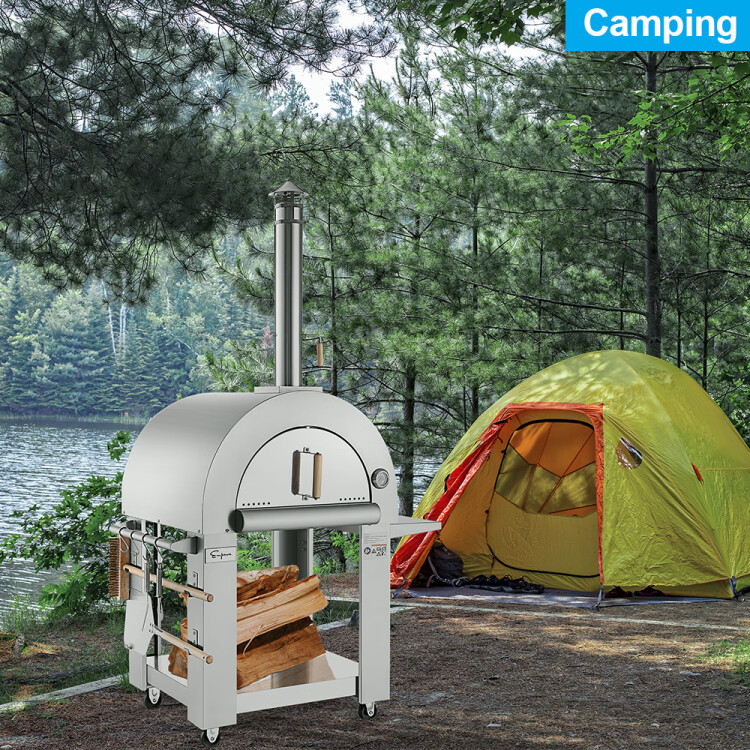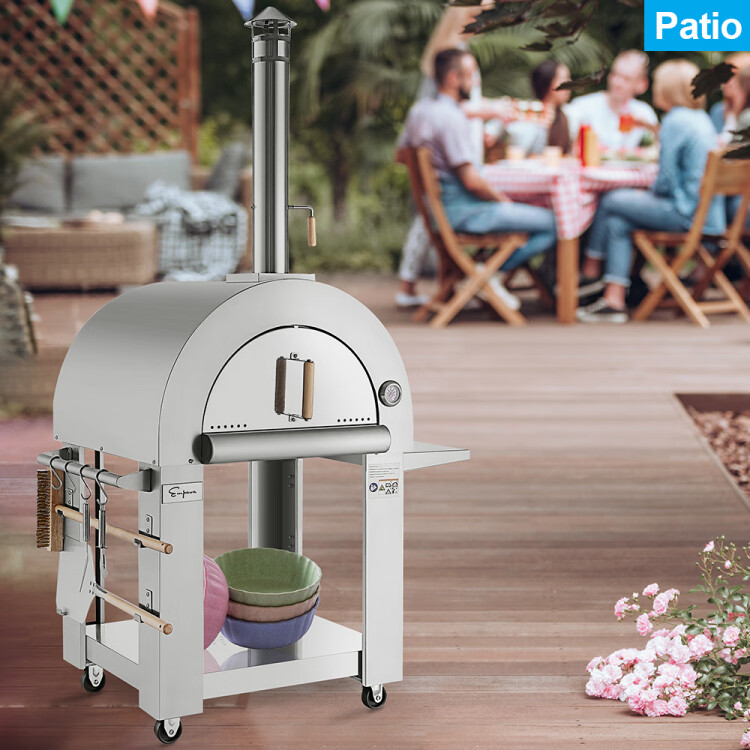 Empava Additional Information: 
Before Delivery:
Orders processes in 1-2 business days. Once an order has been shipped, brand is unable to change or modify it for any reason.
For orders that use the LTL shipping method, if the consignee requests to change the destination, the shipment will return to the shipper and brand will charge 20% of the refund as a restocking fee.
All LTL orders need to be accepted for delivery within 5 days of the shipping carrier contacting you to set up a delivery date. For any order not accepted within 5 days, refused, or returned to the sender, brand will charge 20% of the refund as a restocking fee.
After Delivery:
Brand provides a 2 year limited warranty for manufacturing defects and replacement parts. For full details, refer to this link: https://bit.ly/3K1gHXF
Within 30 days of delivery, customers may request a refund.
For defective, damaged, or wrong products, customers should refuse delivery or submit a request with pictures within 48 hours of receipt.
For refunds for other reasons, brand will charge 20% of the refund as a restocking fee. Product must be in resalable condition to receive a refund, meaning it must be free from scratches, must not have been installed, must be in the original manufacturer's box and packaging and be free of writing, and must not be missing pieces.
To request a refund, email pictures or video evidence to support@empava.comand CC info@wholesalebidder.com for faster responses.
Please note that we may use another shipping method according to the actual situation.
Currently orders to Hawaii, Alaska, Puerto Rico, and other US islands can't be delivered.