Description
Looking for a gas range with a large oven? You found it here with THOR Kitchen's 24" Inch Gas Range, LRG2401U. Perfect for all kitchen and cooking styles! This unit proves that good things come in small packages! With powerful burners, continuous grates and a professional style, this compact design is perfect for small kitchen spaces while packing a powerful punch.
Notable Features

High-Powered BTU Burners.

 

The high-powered 18,000 BTU burner provides fast, intense heat for creating large family meals and restaurant-quality dishes

Oven Capacity. 3.7 cu. ft. oven capacity can accommodate multiple dishes for enhanced cooking
Continuous Cast-Iron Grates. Heavy-duty continuous cast-iron cooking grates that can handle any size cookware
Even Heat Broiler.

 

Reflective gas tube broiler distributes heat evenly to sear your food and seal in the juices

Porcelain Spill Tray.

 

Single-piece black porcelain spill tray catches the mess and makes cleanup easy

Porcelain Interior.

 

The gray porcelain oven interior adds a stylish touch and is easy to clean

Proud to Source the best materials Internationally and in US


ITALIAN SOURCED BURNERS: Each of our burners features its own ignition, instead of the traditional multi-point model of using one ignitor for all burners. This offers a quieter cooking experience while also extending the lifetime of the burner system.
SPAIN SOURCED BURNER VALVE: 

Providing precise control on top burner flames to provide a professional cooking experience for your Thor Kitchen Cooking.

US SOURCED THERMOSTAT: Mechanical Thermostat Control offering everlasting temperature sensing function and maintaining the cooking temperature you desired.

US SOURCED HOT SURFACE IGNITOR: Supporting your Thor Kitchen Gas Range bake/broil function with enduring hot surface ignition system, providing high-performance radiating heat to sear your food and seal in the juices so you can enjoy the juiciest meats, poultry and fish.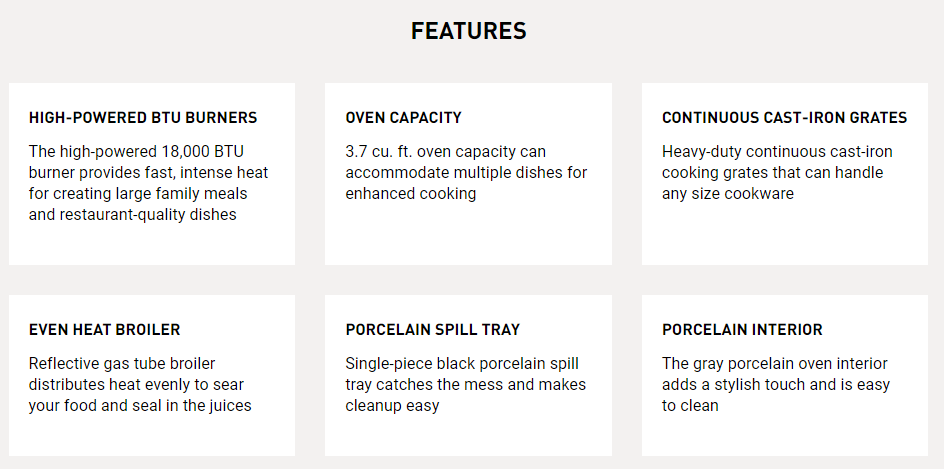 Thor Kitchen Additional Information: 
Before Delivery:
1) Thor will try to deliver the product several times over 2 business days. If delivery is not accepted by the customer during this time, the merchant will receive a refund minus a 15% restocking fee
After Delivery:
1) In the first 30 days, for product quality-related returns, Thor will cover return shipping and restocking fees.
2) In the first 30 days, for buyer's remorse returns, merchants will receive a refund minus a 15% restocking fee. The unit should be in a box or pallet so Thor can pick-up. If there is no box or pallet, or if the product was already used, Thor will not accept the return request
3) For service after first 30 days, refer to the product warranty:  https://bit.ly/3NKfHZ6 
4) To file a warranty service request, email service@thorgroup.us and CC info@wholesalebidder.com to ensure fast responses. Include proof of purchase in your email. 
Please note that we may use another shipping method according to the actual situation.  
Currently orders to Hawaii, Alaska, Puerto Rico, and other US islands can't be delivered.