Thor Kitchen 24 Inch Indoor Outdoor Wine Cooler, Dual Zone 46 Bottles TWC2401DO
Regular price
$2,299.99
Sale price
$1,759.99
Description 
THOR Kitchen offers the power and performance of a premium professional appliance at a practical price. What is a perfectly cooked masterpiece without the perfectly preserved wine pairing?
THOR Kitchen offers a wide range of models with important attention to detail to best accommodate your wine preservation requirements and personal taste—in wine, as well as décor. This beautifully designed 24 Inch Dual Zone Wine Cooler can be used for entertaining indoors or outside in your outdoor kitchen. It features two temperature-controlled zones that help preserve the flavor and integrity of individual wines. There's a special zone for whites and a separate zone for reds. The 46 wine bottle capacity can easily fit a full selection of wines. #cooklikeagod
MANUAL: https://thorkitchen.com/wp-content/uploads/2021/10/Manual_TWC2401DO_24_-Dual-Zone-Indoor-Outdoor-Wine-Cooler-46_v09232021.pdf
 SPEC SHEET:https://thorkitchen.com/wp-content/uploads/2021/10/24-Inch-Indoor-Outdoor-Wine-Cooler-TWC2401D0.pdf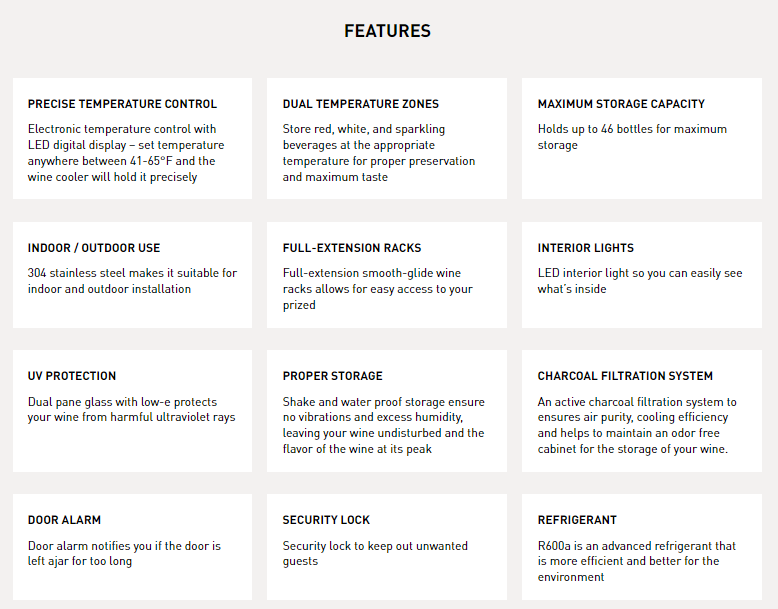 Thor Kitchen Additional Information: 
Before Delivery:
1) Thor will try to deliver the product several times over 2 business days. If delivery is not accepted by the customer during this time, the merchant will receive a refund minus a 15% restocking fee
After Delivery:
1) In the first 30 days, for product quality related returns, Thor will cover return shipping and restocking fees.
2) In the first 30 days, for buyer's remorse returns, merchants will receive a refund minus a 15% restocking fee. The unit should be in a box or pallet so Thor can pick-up. If there is no box or pallet, or if the product was already used, Thor will not accept the return request
3) For service after first 30 days, refer to the product warranty:  https://bit.ly/3NKfHZ6 
4) To file a warranty service request, email service@thorgroup.us and CC info@wholesalebidder.com to ensure fast responses. Include proof of purchase in your email. 
Please note that we may use another shipping method according to the actual situation.  
Currently orders to Hawaii, Alaska, Puerto Rico, and other US islands can't be delivered.