Description
Lay back and relax as the Empava provides deep immersion allowing you to cover your entire body in water for a more relaxing experience, the black headrest provides a comfortable place to rest your head. The ergonomic control knobs allow you to effortlessly control your new whirlpool bath. The Empava Freestanding tub allows for total immersion, affording the best conditions to fully appreciate the unparalleled whirlpool experience.
Relax and wind down in your Pure-Scape luxurious Whirlpool tub by Empava, featuring 100% glossy white acrylic and a contemporary stand-alone design that complements any bathroom décor.
Features:
Indulge Yourself in The Tub Spa
With 8 adjustable water jets and a 0.75HP water pump, the Empava 67 in. Oval whirlpool bathtub delivers a relaxing and rejuvenating hydro massage specifically targeted to your lumbar, legs, and feet to promote blood circulation and to the back for total body relaxation. Just wind down in the tub after a busy day, you only belong to yourself at this moment.
Find An Ideal Way To Bath
You can enjoy both bursting bathing pleasure and revitalizing aftereffects in a whirlpool bath. Your blood flow is accelerated by the water massage and the air bubbles in the air. Pent-up stress and muscle pain go, leaving you feeling refreshed and carefree. So a whirlpool tub is simply divine for relieving throbbing pain. We are confident that this bathtub will be helpful to you in your search for the ideal bathing.
Designed for Comfortable Experience
The ergonomic control knobs are designed for simplicity and ease. This whirlpool air tub brings a whole new meaning to the words comfort, relaxation, and luxury. Designed with the highest quality in craftsmanship and unparalleled technological innovation. The generous 67" length for 2-person bathing offers you plenty of space to stretch and relax. The 14.56" soaking depth allows the average adult bather to submerge in water up to their shoulders, which creates a relaxing feel for extended soaks.
| | |
| --- | --- |
| Dimensions | 67-in L x 29.5-in W x 22.8-in H |
| Soaking Depth | 14 inches |
| Water Capacity | 65 Gallons |
| Bathing Capacity | 2-person |
| Installation Type | Freestanding |
| Therapy Type | Whirlpool tub |
| Shape | Oval |
| Material | Acrylic |
| Number Of Jets | 8 Jets: 2 jets in the lumbar region, 4 jets in the body region, 2 jets in the foot region |
| Pump Power | 0.75 HP water pump |
| Included | Overflow & Faucet & Shower Head & Watter Jets & Left Drain & Knobs |
| Drain Location | Center |
| Assembled Weight | 150 Lbs. |
| Control Type | Knobs |
| Bath Voltage | 120 volts |
| Bath Breaker | 6 Amp |
| Warranty | 3 years, on limited parts that cover tub feet, drain, overflow, knobs, jets, headrest, and any leaks on the body. |
| Certified | UL Certified Motor |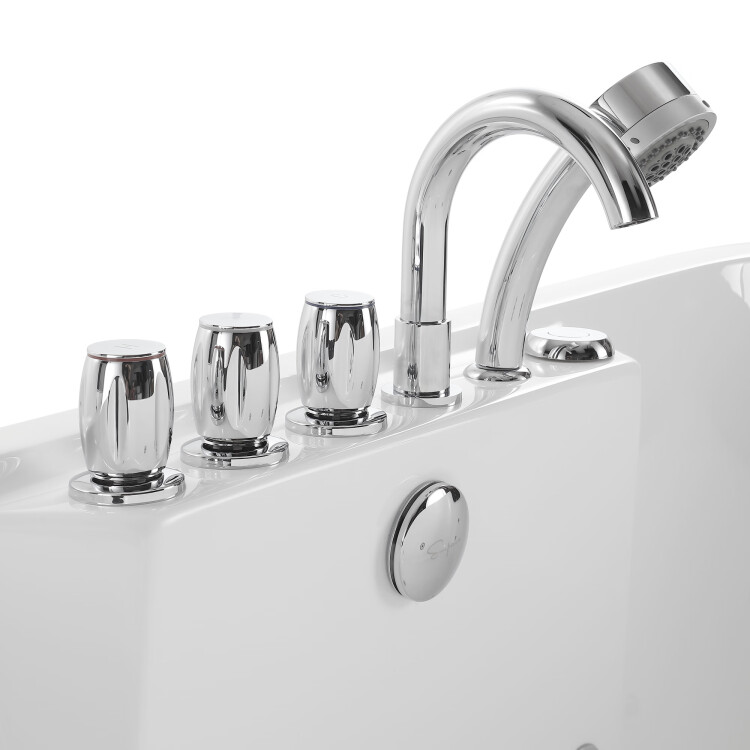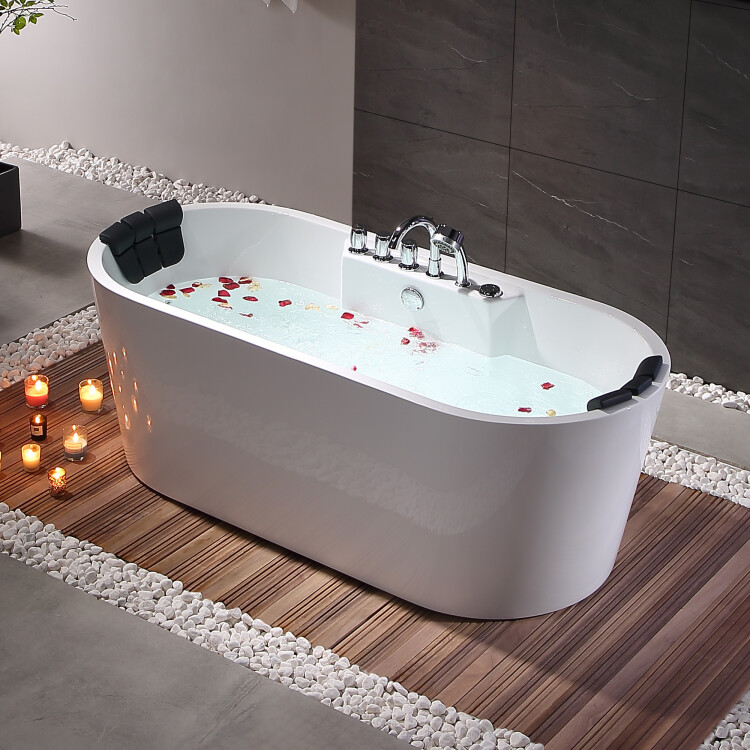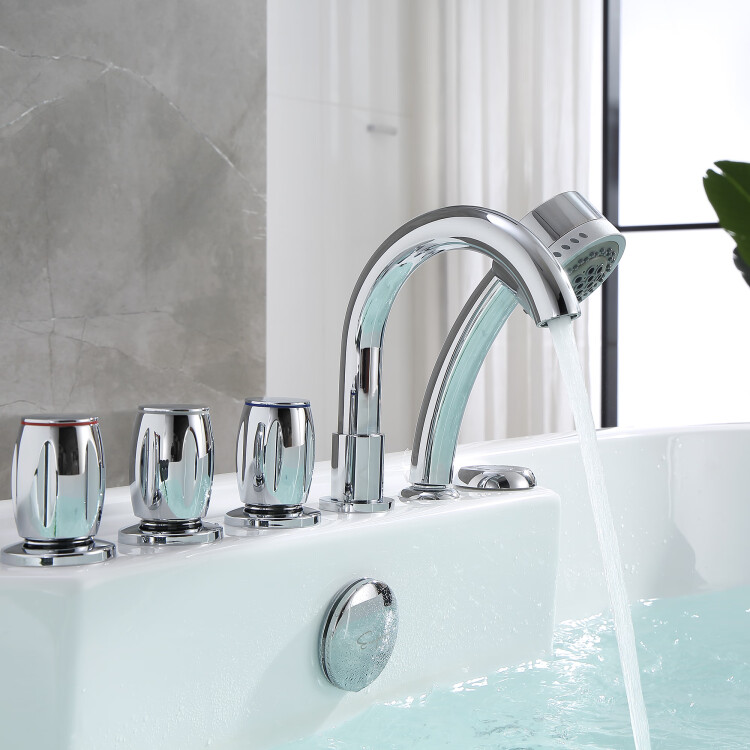 Empava Additional Information: 
Before Delivery:
Orders processes in 1-2 business days. Once an order has been shipped, brand is unable to change or modify it for any reason.
For orders that use the LTL shipping method, if the consignee requests to change the destination, the shipment will return to the shipper and brand will charge 20% of the refund as a restocking fee.
All LTL orders need to be accepted for delivery within 5 days of the shipping carrier contacting you to set up a delivery date. For any order not accepted within 5 days, refused, or returned to the sender, brand will charge 20% of the refund as a restocking fee.
After Delivery:
Brand provides a 2 year limited warranty for manufacturing defects and replacement parts. For full details, refer to this link: https://bit.ly/3K1gHXF
Within 30 days of delivery, customers may request a refund.
For defective, damaged, or wrong products, customers should refuse delivery or submit a request with pictures within 48 hours of receipt.
For refunds for other reasons, brand will charge 20% of the refund as a restocking fee. Product must be in resalable condition to receive a refund, meaning it must be free from scratches, must not have been installed, must be in the original manufacturer's box and packaging and be free of writing, and must not be missing pieces.
To request a refund, email pictures or video evidence to support@empava.comand CC info@wholesalebidder.com for faster responses.
Please note that we may use another shipping method according to the actual situation.
Currently orders to Hawaii, Alaska, Puerto Rico, and other US islands can't be delivered.